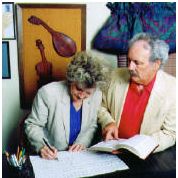 SONG STORIES
Now you'll know the "Rest of the Story."
There's a story behind many of the songs we write. 
We'd like to share a few of those stories here, including one particular song that we didn't write.
Through the years you've heard and seen these songs being performed by various artists...
Be blessed!
WALKING BACK DOWN
Written by Laura Lewis
Sent to Radio by THE CHANDLERS
          When my third daughter, Chel`e, was 9 years old, God gave me a son. Jody was a joy to us all. When he was almost 10 years old, the three of us were in a car accident. Jody went to Heaven that day. It's been one of the hardest things our family had ever gone through, but the good thing is that we didn't have to go through it by ourselves. 
          Jesus has been with us every step of the way. 
          Chel'e was in the hospital several days and I was finally able to leave on the 11th day. My doctor came in to give me a last minute check-up and found me crying. He said, "Why are you crying?" I answered, "Because I lost my son; he won't be going home with me." He replied, "No, you didn't lose your son...When you lose something, you don't know where it is. .. And you know where he is!" I thought, "How true!" And I have been sharing this with folks each time I give my testimony about Jody. 
          Something else...He's not just in my past...He's in my future! That's enough to shout about! 
          So you see, there I was one night after that, taking a burden of grief up Calvary's Hill; something I'd never taken up before. As I was "watching" myself do this (to make sure I didn't bring that burden back down with me!), I noticed that on the way down my feet were not touching the ground. I was so much lighter. 
          That was the inspiration for the song "Walking Back Down." I wrote it, sent it to my publisher, and The Chandlers recorded it and sent it to radio. 
          Even today as we travel all across this country and I sing, "Walking Back Down," folks sing it with me, and usually someone gives me their story of how the song helped them through a valley in their lives. 
          I consider this one song a special continuation of Jody's ministry (he was the little drummer of our Gospel singing family and had just begun to sing some), because if he hadn't gone to Heaven that day, it would never have been written. 
WALKING BACK DOWN 
Verse One  
I've spent a lot of time down through the years   
Walking up Calvary's Hill  
And I'm so glad there's a cross that I can go to  
When I have a need to be filled...  
The trips that I make are all worth the climb  
Cause at the top is Jesus, the Lamb...  
He trades all the cares I bring up to the cross  
For victory to carry back down.  
CHORUS  
I spend a lot of time at Calvary  
Kneeling before the Lamb  
His blood makes everything whiter than snow  
When I come just as I am...  
And as I am walking back down Calvary's Hill  
My feet are not touching the ground... 
Cause the heart that was burdened on my way up  
Is shouting victory walking back down.  
Verse Two  
When I walk up the hill to Calvary  
The reasons are different each time  
I may need forgiveness or just to be lifted up  
Or I might need healing Divine...  
Well, I walk up that hill with my load of despair  
Lay it down at the feet of the Lamb  
And the heart that was burdened on my way up  
Is shouting victory walking back down!  
© Laura Lewis/Chestnut
Mound Music/BMI 
I'M A WINNER EITHER WAY
Written by Laura Lewis
Recorded by Hundreds of Artists but first sent to Radio by
MIKE UPRIGHT & STANDING TALL, then THE INSPIRATIONS
          In 1991 the doctors told Gene Malone from East Tennessee that he had cancer. Gene had been serving the Lord a long time. One day his friend and mine, Trina Curtis, a Church of God pastor's wife, went by to pray for him. She said, "I'm praying for your healing, Gene." He replied, "I knew you would." Trina said, "Either way, you're not gonna lose." He said, "Nope, I'm a winner either way!" 
          Later Gene did go home to be with the Lord, and after that I was visiting with Trina one day. She told me what Gene had said about being a winner. I said, "Trina, there's a song in that!" She replied, "Well, write it!" I said, "No, you write it, it's your story." Though Trina had never written a song, she put a lot of thoughts on paper, and as she gave it to me she laughed and said, "This sounds like a Hallmark Card." (Smile)  
          As I looked it over, I thought, "What she needs is an outline to go by that will help her." So I sat down and started to put one together, and as soon as I put my pen to paper, the words just began to flow. Before I knew it, the song was written! It was a moment I'll never forget. I called Trina and told her what happened, and she was almost in tears because she was so ecstatic at how the Lord had moved so that the song could be completed. 
          Several artists have recorded the song through the years, but it was not until 1998 when Mike Upright and Standing Tall sent it to radio that the song really began to minister to the masses. Now The Inspirations have recorded this song, sent it to radio, and it peaked on the national charts at #5, plus was voted by the Singing News Magazine as one of the most popular songs of 2006. 
          Lewis & Lewis have received hundreds of testimonies of how the song has helped folks, and in talking with the above artists, they hear them all the time as well  We're in awe of how God has used this song to minister to thousands, and thankful He continues to do so. 
          As it says in the second verse of the song, "None of us really know about tomorrow." How true. So, we must prepare today to go to Heaven, because we don't know when our time will come. When we give our heart to Jesus, then we don't have to worry about tomorrow. No matter what happens, we'll be a winner either way! 
Note: If this song has touched your life in some way, or if you know someone it's helped, we would love to hear your story. Just e-mail it to lewisandlewisrus@aol.com or send it to P.O. Box 2783, Hendersonville, TN 37077. 
I'M A WINNER EITHER WAY 
Verse One 
A loved one knew he neared the end of life's journey 
But he'd been holding to God's hand a long, long time 
As I knelt beside his bed my heart was blessed by what he said, 
"If I go or if I stay, victory's mine." 
CHORUS 
I'm a winner either way, if I go or if I stay 
Cause I'll still have Jesus with me each passing day 
I'll have a healing here below or life forever if I go
Praise the Lord, I'm a winner either way! 
Verse Two 
None of us really know about tomorrow 
So we must prepare to go to Heaven any day 
While we're here, just trust the Lord 
He'll lead us there for our reward 
By His grace, we'll be a winner either way
© Laura Lewis/Chestnut
 Mound Music/BMI 
IT HAPPENED
Written by Ray Lewis
A Classic Recorded by  THE HAPPY GOODMAN FAMILY
          Some folks don't believe in women preachers. But I've learned that some women preach anyway, regardless of what some folks believe. 
          It was the mid-sixties. Times were hard. I had a minimum-wage job trying to support a wife and three kids. The family limousine was an old 51 Plymouth station wagon. The floorboards were rusted out and had to be patched to keep the kids from falling through. The gas gauge didn't work so when I put my dollar's worth of gas in the tank, I'd write down the odometer mileage on the sun visor. That way, I'd know about how far I could go before I'd have to put in another dollar's worth of Regular. 
          I had just rededicated my life to the Lord and was attending the Friendly Pentecostal Church of God in Van Buren, Arkansas. It was CampMeeting time and the annual meeting was held just down the road at Alma, Arkansas. The preacher was a lady from Scotland by the name of Ethel Hook. Undoubtedly, no one had ever told her she couldn't preach. If they did, she had certainly paid no attention. She was definitely out of the "old school." In all years since, I've never heard anyone preach harder or shout louder than Sister Ethel Hook. 
          Anyway, on one particular night of the meeting, she preached from Genesis to Revelation. Her message was the truth of the Bible and how every prophecy had happened just as the Bible had declared. Of course, when she got into the New Testament, she preached about Jesus, with stories like how he commanded the storm to cease, and told the man at the pool of Bethsada to rise up and walk, etc. Then she would say, "And it happened just like He said!" 
          Having just gotten back in church, at that point in my life, I had only written two Gospel songs. But as I listened to that message that night, I knew, or at least I thought I knew, that I was hearing a great concept for a song. When I left the meeting, the first thing I did when I got in the car was pull the visor down and write, "It Happened Just Like He Said." 
          The meeting came and went and life fell back into it's usual ebb and flow. Then one day, several weeks later, I pumped some gas and as I pulled the visor down to write the odometer mileage I noticed what I had written that night at the camp meeting. I immediately wrote the song and sang it at church. Everyone seemed to like it so I put it on tape, had a prayer meeting over it, and sent it to my favorite Gospel group in the whole world, The Happy Goodman Family. I didn't have a clue whether or not it was even their style, I just loved their singing and so it never occurred to me to send it to anyone else. A couple of weeks later, I received a telegram from Rusty Goodman. My heart came up in my throat. I called the number and would you believe Rusty answered the phone! I'd never talked to a real live Gospel singer before and I still recall how that deep resonate voice with that southern accent just blew me away. He said, "We're gonna do your song and Vestal is gonna sing it." I think I managed to maintain my composure until the phone conversation was over, then I went ballistic. 
          The Goodmans went on to record other songs I had written, but "It Happened" was the greatest thrill of my life and I continue to cherish the memory. It was the first step into a gospel songwriting career that has now spanned forty years with songs recorded by everyone from the Kingsmen Quartet to the Grand Ole Opry's Connie Smith.
  IT HAPPENED  
CHORUS
   It Happened, like He said,  
As He cleansed the lepers and raised the dead,  
Fed the five thousand with five loaves of bread.  
Then He said, "Greater things than this shall ye do,  
For I go to make the intercession for you,"  
And it happened, just like He said.  
   Verse One  
 On the Sea Of Galilee a storm prevailed,  
But the Lord arose and said, "Peace be still"  
And it happened, just like He said.  
Those round about said what sort of man  
Rebukes the elements and they understand,  
And it happens, just like He said.  
   Verse Two  
 Blind Bartimaeus cried out by the road,  
Jesus said, "Your faith has made you whole."  
And it happened, just like He said.  
Jesus said, "What do you want from me?"  
Bartimaeus cried, "Lord, that I might see."  
And it happened, just like He said.  
   Verse Three  
 Jesus said, "Surely I must go away,  
But if I go, I'm coming back some day,"  
And it'll happen, just like He said.  
"I go to prepare a place for you,  
That where I am, you can be, too,"  
And it'll happen, just like He said.  
After Verse...Chorus says, "It'll happen" instead of "It happened"  
 Extra Verse The Goodmans Never Recorded  
 The woman at the well surely was amazed,  
When the Lord revealed her sinful ways,  
And it happened, just like He said.  
She ran through the streets and said, "Come see the one  
Who told me all the things that I ever done,  
And it happened, just like He said."  
 © Ray Lewis/OldeStory Music/BMI